Morning Ladies!
How is everyone today?
The post I have for you today is all about how I keep my clothes and shoes in order and how I arrange my wardrobe.
I am a bit of a neat freak and am a firm believer in clearing out your wardrobe at the beginning of each season.
So now that Autumn is approaching and I've purchased some new clothes I've had a clear out of my wardrobe and produced a new organising system (and a big bag for the charity shop!).
I'm going to talk you through the sections of my wardrobe as well as sharing a few tips I've always used!
First off I section my clothes into bottoms and tops.
Then the main way I organise my clothes is by Colour.
I'm super picky and have my clothes hung in order of the colour spectrum.
This is just super picky of me and it's not necessary to arrange your clothes like this in order to be organised.
I also keep my 'going out' dresses to the side as it's easier to have a part of my wardrobe I can go straight too when I'm looking for something a bit more special.
At the end of my Wardrobe I hang my belts on this belt organiser from Primark.
I hate rolling belts up in drawers as it's just so easy for them to become messy. This way of hanging also allows me to see all of the belts I have.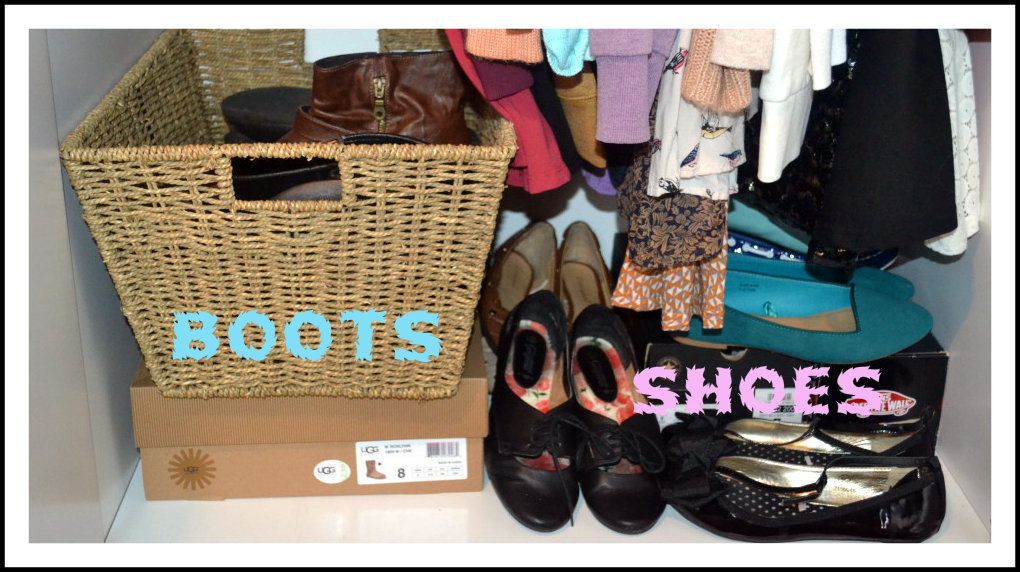 At the bottom of my wardrobe I store my shoes and gym clothes.
On the top I always keep my shoes on the right and swap the box on the left seasonally.
In Autumn and Winter I keep my boots on the top shelf and sandals underneath, however during Spring and Summer I rotate these for ease.
I store my gym wear in a basket at the bottom of my wardrobe as its so easy just to slide the basket out and grab what I need.
I tie and elastic band around all of my pairs of sandals.
This makes it so easy to grab a pair and I'm not hunting around for a pair of shoes in a box of madness.
Separate from my wardrobe I have a set of draws for everything else.
Two drawers are dedicated to out of season clothes.
(The other has heavy knit jumpers)
When I organise my wardrobe at the change of the season the clothes which I am 99% sure I wont be wearing are folded away into a drawer.
It is also just as efficient to store them in a suitcase or under the bed.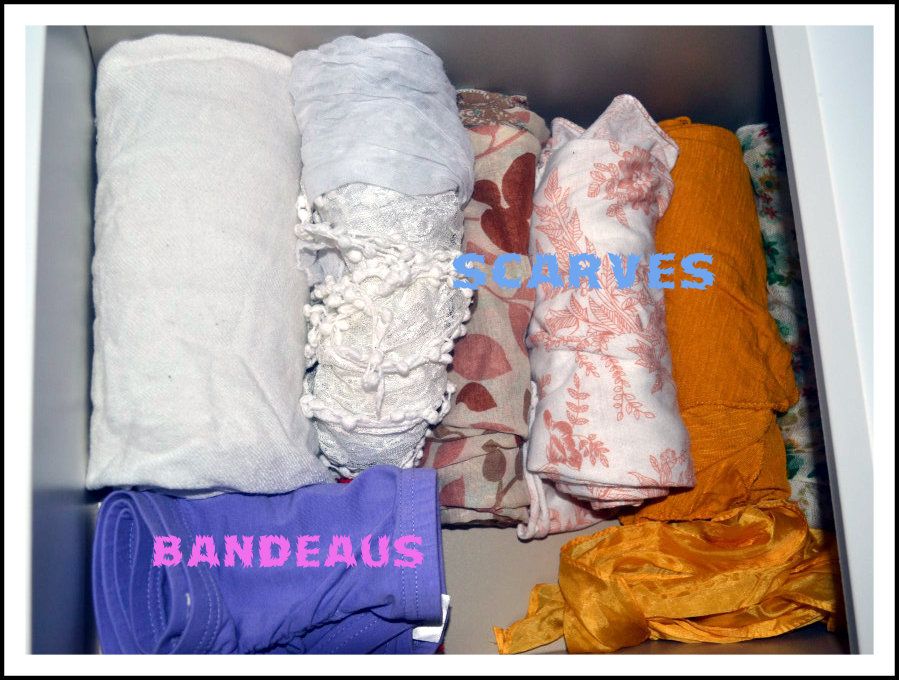 And finally my scarves and bandeaus are folded and rolled into a smaller drawer.
I prefer to roll my scarves and its a lot easier to end up with an untidy drawer if they are folded.
It is also really easy to see what I have and grab it quickly.
The way I have my clothes and shoes organised works really well for me and it has taken me a while to find the perfect organisation solution.
A few tips I have for you guys are:
Keep trying to find your solution
Like I said it's taken me a while to perfect my organisation but this system works really well for me as it's easy to keep neat and see what I have.
Clear out!
I clear out at the beginning of each season.
If I didn't wear an item in the previous season then I generally get rid of it unless there is a reason (for example a sun dress during a rainy summer).
Items which can transition through seasons are always in my wardrobe and those which are season specific get sorted into a drawer.
Make the time
If you always find your self throwing clothes into the wardrobe and spending hours clearing out every few months then consider taking 30 seconds more to hang and organise your clothes.
Not only will it make that big clear out quicker but it will also speed up getting ready in the morning.
Only keep what you wear
The obvious exception to this rule is important and memorable clothes.
I still have a bridesmaids dress from when I was 3. Obviously I never wear it but it's important to me.
However that ill fitting jumper and too small pair of jeans can go!
I love seeing how people organise their clothes and have really enjoyed writing this post!
I hope you have enjoyed this post too!
Have you got and top tips for organisation?
If so share them below!