Who is the most stylish woman in the world?
Lady Gaga?
Kim Kardashian?
Rihanna?
Well yes they are fashionable, but when talking about STYLE (and there is a difference) in my opinion, the tittle has to go to:
The Queen of England
Now you may think my brain has melted in the heat but bear with me.
She always looks elegant, poised and most importantly comfortable.
She may be in her 80's but the woman knows how to dress.
yes she has an army of style soldiers and all the money you could want but watch a few royalist documentaries and you would be surprised.
The Queen looks good in every colour.
She knows how to dress for her age, shape, complexion and the occasion.
Today ladies, I am going to share with you her cheap as chips style tip.
Have you ever had a Marilyn moment?
You know? Dress goes up in the wind and your knickers are on show to everyone?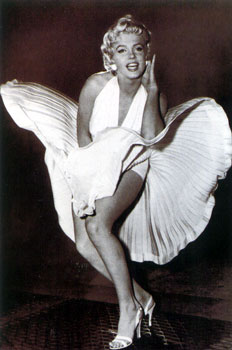 It may be one of the most iconic pictures ever but I prefer for my hemline to hang where it should be.
How does The Queen avoid such fashion faux pas?
Curtain weights.
Yes you read correctly.
Recently the Queen's courtier (stylist to you and I) revealed that the queen avoids these little slip ups by having curtain weights sewn into her hemline.
Not only does it avoid the wind carrying your skirt up to your ears but it helps your clothes to sit on your body in a nicer way.
1979 was the last time this happened for the Queen.
When was the last time it happened to you?
So ladies, head down to you local haberdasheries (or ebay) and spend a few pounds to spare your dignity!
Curtain weights come in a variety of sizes and are super easy just to sew onto your hem line.
Or if you're a bit nifty with a sewing machine why not pick up a weighted string (also for curtains) and sew that the entire way around your skirt?
Please let me know if you try this out as the days are getting warmer and the hem lines are getting shorter!
x